Dr. William Thiel shared the following story and zither club photograph. This photo of the "Zither Club Almrausch" was taken in Livingston, Illinois, in 1914. The man seated center at the table is Ignatz Thiel, Dr. Thiel's grandfather.

My Grandfather came over from Bochum-Wattenscheid Germany in 1906. The picture shows Ignatz Thiel and his son (on violin) Ignatz Bernard Thiel, my father. I assume that he learned the Zither in Germany. He was a coal miner in Germany and in Livingston, IL. He also owned a tavern for a short time in that town, and opened "The Thiel Hotel," which his wife ran (Emilie Mueller Thiel). When the mines closed in south-east Illinois he and his family moved to Chicago where he and Emilie were very active with several of the German Singing Societies in Chicago. Ignatz B.'s sister Theresa played the piano, and her husband from Germany, John Reinisch, played the Trumpet. John and Theresa were also active with the German singing societies and played in their own small band at a German run tavern on the South Side of Chicago on the weekends. The entire family seemed to have a GIFT of being able to play almost any song by EAR.
Attachments:
File comment: Zither Club "Almrausch," Livingston, Illinois, 1914.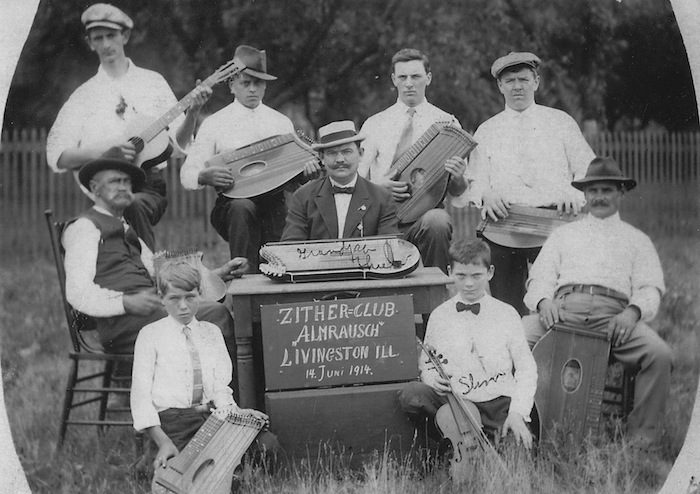 william_thiel.jpg [ 117.52 KiB | Viewed 1089 times ]

_________________
We do not take humor seriously enough. —Konrad Lorenz